Infotech Group receives award from Moscow Region State Housing Inspectorate
Posted on January 17 2018
Unique for the Moscow region, the IT project to create a virtual dispatching service (UDS), implemented by the Infotech Group, was recognized by an award from the State Housing Inspectorate of the Moscow Region. The project is designed for the city of Dolgoprudny.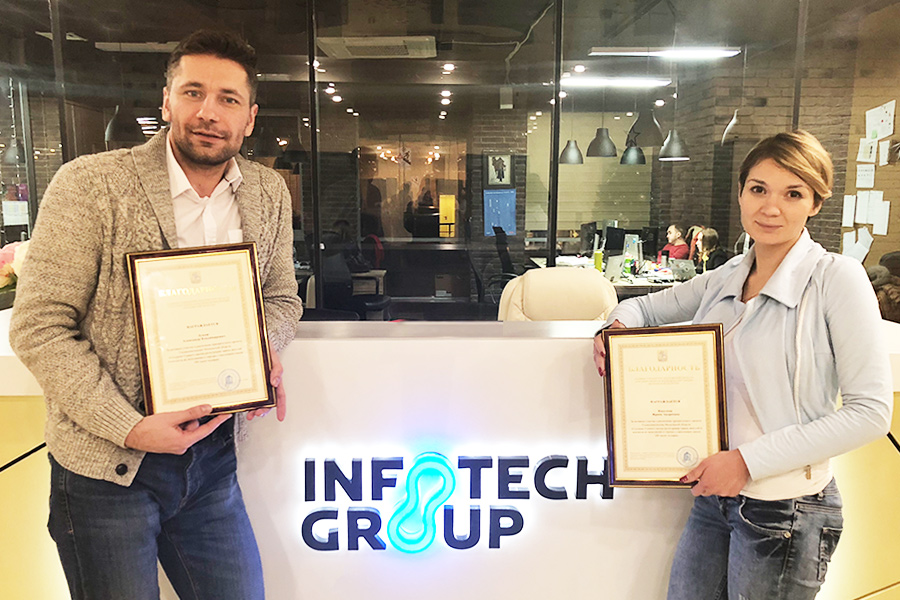 Source of the photo: Infotech Group. In the picture: Regional Development Director Irina Kiseleva and Regional and Municipal Economy Director Alexander Lukas.
The solution of the Infotech Group made it possible to fully automate the processing of residents' requests for services. All of the operations that were previously performed manually by dispatchers are now performed by the system. The requests received through various channels (by phone, from the city portal, through messengers, etc.), are channeled into a unified system, then are promptly registered and distributed among the service providers. Thus, each department receives only such requests that fall within the scope of its responsibility. When the work is completed, the service provider sends a report on the results with photos and video materials to the system. Infotech Group's project is the only virtual dispatching service in the Moscow region. In other cities (Orekhovo-Zuevo, Korolev, Elektrostal and Lyubertsy), unified dispatching services operate in the traditional format of call centers, and requests are processed manually.
The solution of the Infotech Group is based on the innovative INFOTECH CITY platform.