INFOTECH CITY helps run municipal services in Tyumen
Posted on May 15 2017
INFOTECH CITY is used to run a whole range of municipal services, including housing and public utilities in the city of Tyumen. The system was worked out in September 2016 by Infotech Group as an integrated solution for the Tyumen Regional Road Construction and Maintenance Enterprise (TRRCME). Deputy Director of the Tyumen Municipal Administration Maxim Afanasiev talks about the success during the first year of automating management of TRRCME.
A demo of INFOTECH CITY was held on May 12 at a special exhibition "Tyumen is our Home", devoted to the development of a comfortable environment. According to Deputy General Director of Operations Gennady Lotochkin, the system helped the enterprise automate the dispatching of assignments between contractors, simplified relations between them and made it easy to monitor work performed.
"We can set the task of tracking progress and deadlines for the completion of jobs within the system. Assignments with a detailed description, contracts and coordinates of work sites, relevant attachments and media-files are all instantaneously sent to the mobile telephone of an employee through a special application. The application can also be used to send out job completion reports", Gennady Lotochkin said.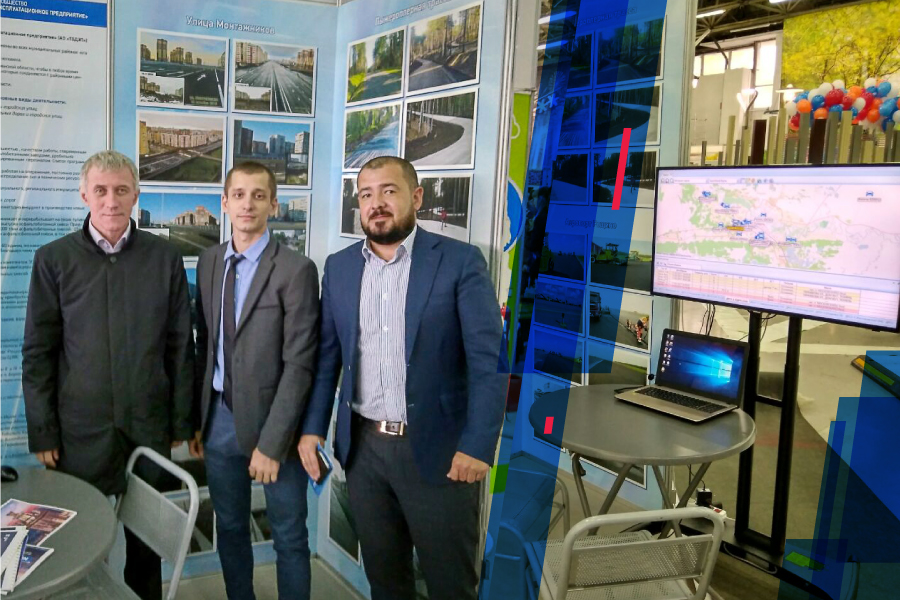 From left to right: Deputy General Director of Operations Gennady Lotochkin, dispatcher Maxim Boyko, TRRCME Deputy General Director for Maintenance of City Roads Ruslan Minnullin
The system makes it possible to organize the whole range of works carried out by contractors related to urban upgrade and maintenance as part of urban infrastructure. This includes garbage and snow removal on roadways and sidewalks, replacing damaged and lost road signs and pillars, washing pillars and shields, pumping rain and thaw waters, cleaning gutters and ditches, replacing and installing missing trash cans, repairing waste containers, etc.
Aside from TRRCM, five other sponsored organizations are also connected to the INFOTECH CITY system.