Infotech Group unveils project at Mosgortech contest
Posted on October 13 2017
Infotech Group presented a project for the automation of Bibliotech libraries as part of the contest for Mosgortech innovative technologies. The event was visited by Moscow Mayor Sergei Sobyanin. The presentation took place in the new Moscow office of Digital Business Space.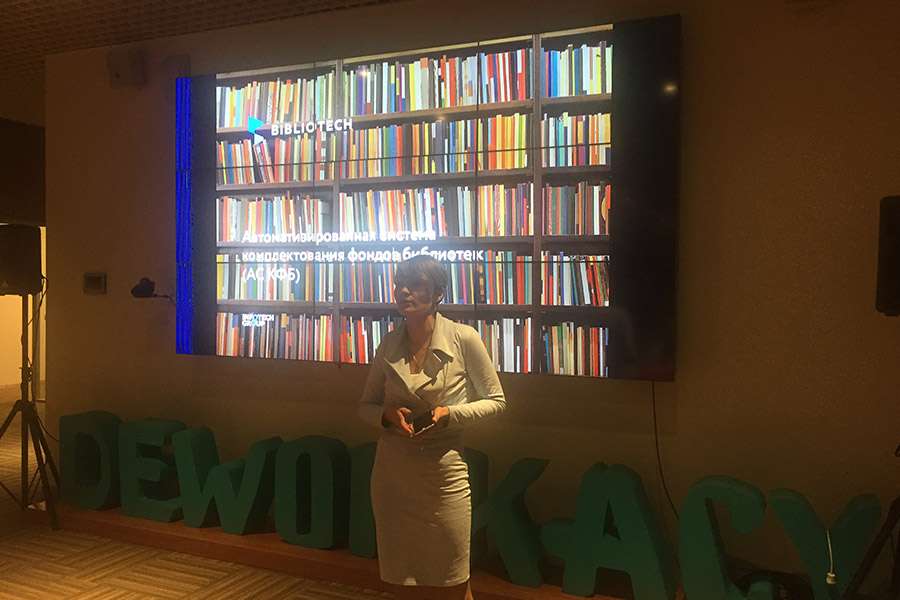 During a two-hour workshop at Mosgortech Lab, the participants told the experts of the Innovation Agency of Moscow and other contestants about their ideas and developments. The Bibliotech system developed by the Infotech Group creates new opportunities for Russian libraries, in their work and providing paid services to readers. The solution automates one of the most important and labor-intensive procedures in library operations: the acquisition of new books. Our system takes only three seconds to perform the amount of work that currently requires up to one month of a library employee's time. A unique component of the Bibliotech system features an electronic buying platform that will aggregate publishers' price offers and provide information on current book prices. This platform makes it possible to search, order and buy books, run auctions, and arrange inter-library book loans. In addition, the project includes a mobile application for readers, which will allow them to order and receive a whole range of online library services. Infotech Group's solution will improve the quality of library book collections and increase the profitability of libraries by optimizing costs and creating conditions for the provision of additional paid services.
Bibliotech is built on the basis of Infotech's innovative technology platform. After the presentation, each project received an expert evaluation and recommendations on holding the presentation for potential customers and users. In late October, the teams that are to become finalists of the contest will be named. The finals will take place in November. Mosgortech is a competition of innovative technologies in such areas as education, creative industries and smart city development. During the finals, participants will have the opportunity to present their projects to representatives of the venture industry and city authorities. The winners will receive funding to develop and implement their ideas.