Infotech Group Kazan team moves to the new office
Posted on May 23 2016
Openness and space is the motto of the renovated Infotech office in Kazan.
The beautiful view from the eighth floor speaks for itself. We like it a lot. What do you think?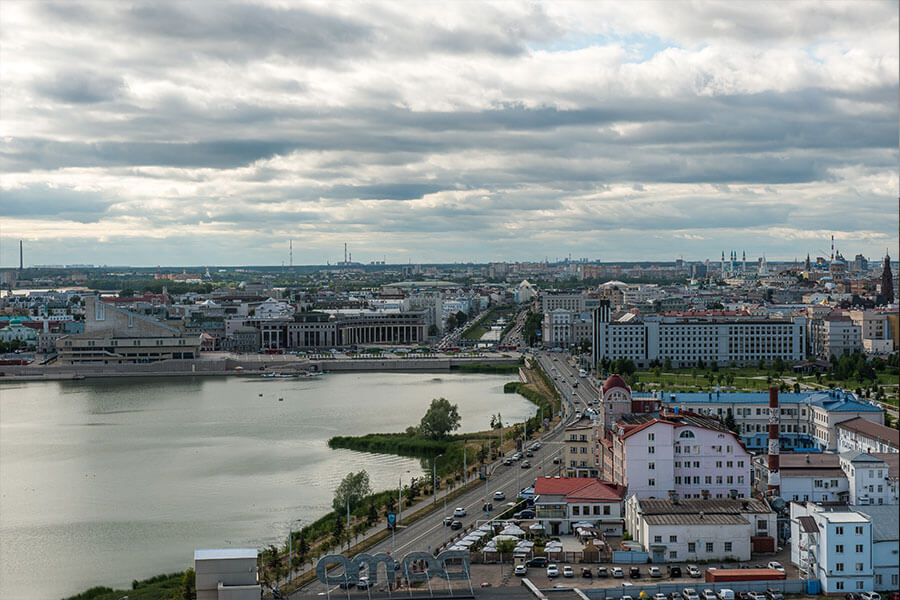 The Kazan office team consists of more than 20 people, and each of us does something different: development, design, and analytics. That's why our office became as multifaceted as we are.
Compact distribution of the workspace.
Long massive tables with free space - this is our working area. Here work is humming along, and the projects are born.
Open boxes for storing our ideas.
We like open space, so we don't overload our office with paper and other stuff. We can keep those in dedicated open boxes, which at the same time serve as excellent separators within the workspace.
Getting rid of stress: relax as you take in the view of Kazan.
The lounge area consists not only of bubble arm-chairs and a cozy sofa, but it also includes an amazing view outside the window thanks to our floor-to-ceiling windows.
Those who need inspiration are welcomed here. Unofficially we use this place for negotiations, brainstorming sessions, because comfort facilitates the generation of ideas.
Mobility in the office.
One can work at any free desk, moving within the office. Perch on an ottoman or get cozy on the sofa. Or you can even take the head of the conference table: freedom of movement throughout the office and the ability to change places help to increase efficiency at work.
Quietness in the office - only the sounds of keyboard typing and music of headphones.
Nothing distracts you from your work. Sometimes one can hear a buzzing sound of coffee machine, but it only wakes us up and revitalizes.
Open meeting room.
Everyone stays tuned to the news and discussions. Why shut yourself in from colleagues? Everything is open and simple with our new meeting zone. There are enough cozy arm-chairs for those ones who want to join. And of course, there is a flat-screen for presentations and video conferences.
Renovations have just been completed, but we are planning to add other interesting elements to our office. We'll keep drawing inspiration and filling our work space with interesting things.
In the meantime we continue building our team and invite talented people, who would like to join Infotech Group and develop ambitious projects together.
Section: Jobs